Posted on January 21 2022


There have been studies done internationally that site test results indicating that by the time they reach high school, boys perform better than girls in math, although not by much. By the time they enter college, only about a third of female students pursue degrees in math and science. Men outnumber women in the sciences, almost four to one in the workplace. These stats don't mean girls are not capable; it just means their interests and societal norms have caused girls to focus their attention elsewhere.

Though these stats seem high and don't favor girls, the gender disparity is three times higher when it comes to reading. Girls are three times more likely to read more, understand more from what they read, and use what they read in their daily lives. Girls learn to read and enjoy reading earlier and more than boys.

No matter the gender, reading is critical for a child's development. When a child is read to and learns to read themselves, they develop their cognitive skills and improve their overall cognitive development. Cognitive development is the emergence of the ability to think and understand. Cognitive development is the basic building block of the thought process, including remembering, problem-solving, and decision making. All of these start as a child and continue to develop into adulthood.

Reading helps a child develop how they perceive and understand the world through information processing, intelligence, reasoning, language development, attention span, and memory. How they see themselves in relation to others and how they develop traits like empathy, sympathy, and acceptance.

Bottom line is, no matter what the child's gender, reading makes them better people. Reading to a child and encouraging them to read for pleasure will help them along as they grow and develop.
How to Get Them to Read
Getting a child to read can be a struggle if they are not used to it. There are video games and TV, movies, and social media vying for a child's attention. All the flash, sound color, and movement make sitting and reading a book seem dull or arcane. Fighting those elements isn't easy.
When a child is assigned reading tasks, they will fight it as children are designed to question and rebel as they find themselves. So, assigning a book to a child doesn't always work. The thing that has been shown to get a child reading is offering them a book on a subject they find interesting. Books with good stories, compelling characters, and a positive message are more likely to capture a child's attention than books about dull subjects, history, or politics. So, step one, find the child a book on a topic that excites them.

Many parents turn to Christian books for a good message and engaging, thoughtful characters for their moral teachings and viewpoints.
What Makes a Christian Book 
What exactly is a "Christian" book? How are they defined, and what are the advantages of this genre? All questions you may ask if you're looking for good, wholesome, value-driven books for your child.

A Christain book, at the fundamental level, is a book written through a Christian worldview. This worldview is a way of looking at the world through the filter of the truths taught in the Bible. This view assumes a sovereign God who created everything and everyone. This Christian worldview also believes that we are answerable to God for all our thoughts, words, and deeds and that we are all in need of salvation. In this particular worldview, our salvation and redemption come through the person of Jesus Christ.

Christian fiction can sometimes overtly represent Christian beliefs and values and express elements of Christianity in the stories, such as prayer, conversion, and the importance of the church. Other works of Christian fiction are not as overt in their teachings; however, there is still a Christian worldview alluded to in the story.

A piece of Christian fiction can feature non-christian characters and views; however, these non-Christian elements are not without consequence or a strong opinion about the non-Christian actions with the story. Suppose a character expresses non-Christian values in the story, such as using drugs or being an exotic dancer. In that case, the prose cannot glorify the choice and suggest that it is value-neutral activity. There must be consequences for non-Christian choices, actions, and thoughts.
Christian Fiction and The Modern Reader
Christian fiction has changed to fit more realistically with the times in the modern world. Kids may be starting to learn; however, they are not without opinion and observation. Sometimes this fact can cloud what makes a Christian book.
Questions arise like can a Christian character have a tattoo? Can they get divorced, go out for drinks with friends? These questions make Christian books even more significant in a child's life because they lead the way to discussions about belief and how to handle people a child will encounter in life that may not share a Christian worldview. Through reading Christian fiction, a child can strengthen their personal beliefs while learning how to accept and understand those around them who do not think or feel the same way about God or religion.
Still, the challenge is to give a child a book that they will find enjoyable and instructive. With that in mind, here are some suggestions for the best Christian book series written primarily for boys. These books all contain Christian themes and values and are full of adventure and great characters that young boys will find engaging.
The Sugar Creek Gang Series 
Paul Hutchens has created this 36 book series aimed at teens. The books follow a group of Christain boys who face a range of mysteries and adventures that cause them to form a deep bond of friendship and sharing of faith.

The Christian values in this series are organically introduced and show a lot of faith-based morals and exercises while presenting engaging and exciting storylines. These stories are great for teen boys but will also be enjoyed by Christian adults.

The Cooper Kids Series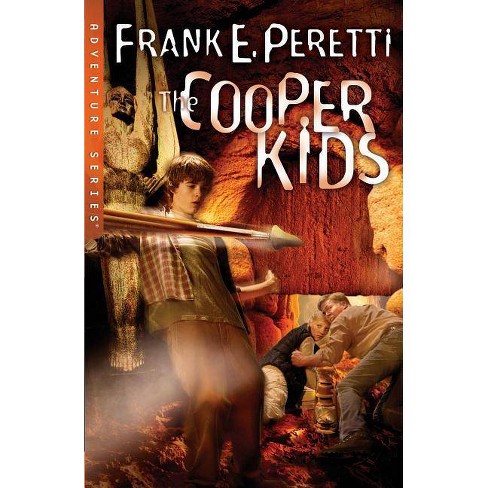 This series, written by Frank E. Peretti, gives us a combination of the Hardy Boys and the Adventures of Indian Jones. A group of teenage boys goes on adventures to find artifacts related to Biblical stories.

The books are full of faith-based lessons on morality, good versus evil, and how important faith is when dealing with the mysteries of the artifacts they find.
Practical Happiness" A Young Man's Guide to a Contented Life
Bob Shultz wrote this insightful book meant to help teenage boys explore, understand and confront common issues they are likely to encounter as they grow from teenage boys into young men.
Told through a series of short stories that help the reader become closer to God, explore the depths of their faith, and re-enforce the need to be content with oneself and have trust and faith in the Lord.
The Chronicles of Narnia
C.S. Lewis's iconic series of books is packed with Christianallegories providing string moral lessons and teaching readers about the importance of goodness, compassion, and the need for a strong base in faith.
The series is not specifically Christian; however, Lewis wrote them to be a solid Christian allegory, and the Christian imagery becomes very apparent and predominant as the reader engages.
Growing Up Christian
Karl Graustein has penned a rather unique Christian book that helps teenagers tackle situations that many Christian teens encounter in the world. The book takes on questions of faith and doubt, peer pressure, and more practical problems a modern Christian teen would face.
This book is ideal for teens who may be facing questions and struggles and need guidance during this ever-changing time in their lives. It is very common for teens to forget the power that the blessings of faith can bring.
The New Recruit ("Mission League Series")
Jill Williamson gives us the story of a faithless teenage boy who is in trouble and is given a choice between going to military school or joining a Christian organization tasked with going on secret international missions. Seems like a strange pretext for a Christian book but, hang on.
He chooses the Christian group, thinking he will sit in a bible study class and do his time and be done. However, he soon discovers this is a secret spy organization tasked with solving crimes worldwide using faith, morality, and the inner strength that comes from a belief in God. As the story unfolds, the protagonist confronts his lack of faith and the need to believe in God.

This book is excellent for teens struggling with their ideas of faith and dealing with their faith in a modern world. Under the title "The Mission League Series," the series will hold a teen's attention for a long time.
Teen to Teen; 365 Daily Devotionals by Teen Guys for Teen Guys
Patti M. Hummel presents a book that teens will make time in their day to read. This compelling devotional book offers a different devotion written by a teen for every day of the year.
These devotions are personal, heartfelt and will help teens develop a more significant relationship with Christ and their faith as a whole.

The beauty of this book is that it makes it easy for readers to understand that God is a part of their daily life even in ways they might never have thought about.
Marissa's Has Christen Books for Boys
Christian literature has come a long way and now is better equipped to help teens strengthen their faith in a modern world. Social media and films have made it more difficult for growing kids to understand how their faith still has a place in a world that seems to have more faith in technology than in God.

This new wave of Christian books is full of great characters that teen boys will be able to identify with and modern-day situations and temptations that teens now are more likely to face. The books feel more updated than some of the early arcane Christian books from the past.

If you're looking for books that your teenage boys will read, enjoy and get some meaning from, then you should take a trip to Marissa's Books and check out their stock of fantastic Christian Books.

The Christain Book genre has evolved, but the messages of faith, belief, courage, and God are still the basis in these stories. Well-written books with great characters and heartfelt messages will keep teens on the right path and strengthen their belief and trust in God. Check out Marissa's books for more titles.